Friday, October 13, 2006
Avalon Ballroom, Niagara Falls, Ontario
Photos
Set List
Wicked Young Man
No More Mr. Nice Guy
Dirty Diamonds
Billion Dollar Babies
Be My Lover
Lost In America
Guilty
I Never Cry
Woman Of Mass Distraction
I'm Eighteen
You Drive Me Nervous
Is It My Body
Go To Hell
Black Widow Jam
Feed My Frankenstein
Welcome To My Nightmare
The Piece

The Awakening
Steven
Only Women Bleed
Steven
The Ballad Of Dwight Fry
Killer

I Love The Dead
School's Out
Poison
I Wish I Were Born In Beverly Hills
Under My Wheels
We're waiting outside the Avalon Ballroom. The tickets say "MUST BE 19 YEARS OR OLDER". Hmm… this is reminiscent of my Davy Jones concert, but when we got there, there were little kids all over the place, so we were fine. But now there's no young kids; there's just old guys wearing black make-up. No. This is a different crowd.
I wonder if anyone else there saw Jerry Lee Lewis?
I came up with a plan: if they didn't let us in, my brother and I would start crying and say that we like Alice Cooper so much that we even watched Sgt. Pepper's Lonely Hearts Club Band! That was sure to get us in!
Anyway. My dad shows up, and we go in without a problem. I wasn't worried. Of course, I wouldn't have been too upset if we didn't get in, since I wasn't really looking forward to it. But for a little while, I wasn't looking forward to CSNY, and they turned out to be really super awesome. My favourite concert, up until The Who, of course. ;)
So we go in and get to our seats. I'm sitting with my mom in the balcony, and my dad and my brother are on the floor, in the eighth row. Pretty good seats, if I do say so myself. Of course, not as close as I was for Jerry, but still really good.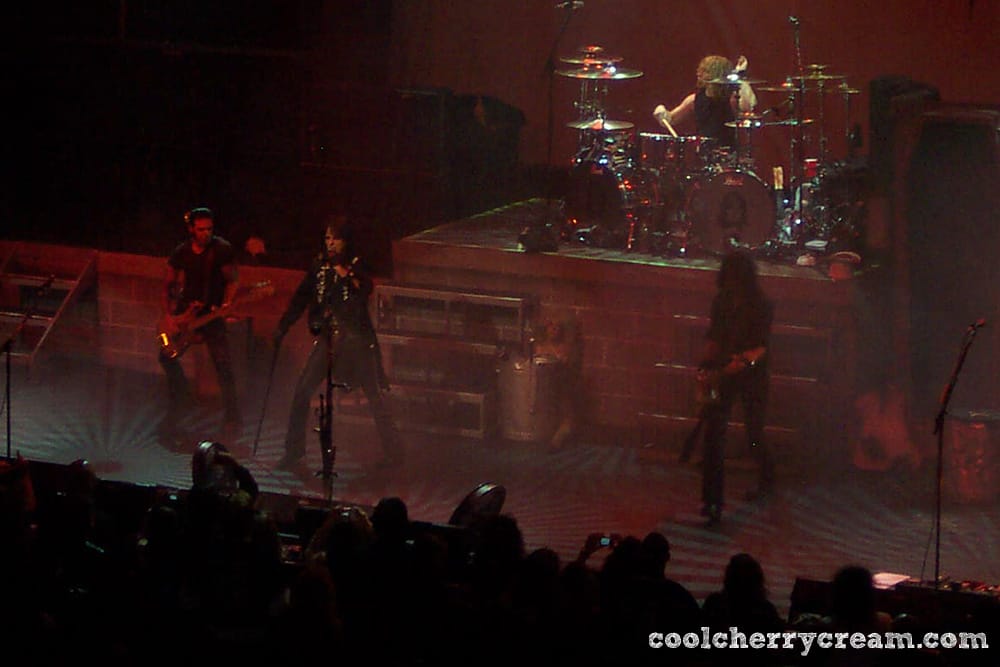 Here he is. Alice Cooper. My first thought?
"WE'RE NOT WORTHY!"
Okay. So I didn't actually say it. I hadn't even been thinking about it. But as soon as I saw him, there it was. Ha ha. My brother told me someone near them was yelling that. Ha ha. What losers.
I don't really like concerts where I don't know the songs. I'd only heard about four of the songs he played previously, so that kinda sucked, but I still enjoyed it, and I really thought I wasn't going to.
During the Ringo concert, my mind was on other things, so I couldn't enjoy it very much. I was afraid my mind would be on other things today, but I didn't dwell on it. Alice put on quite a show, and I was captivated.
It was very theatrical. He had all kinds of props and stuff. He threw necklaces and dollars and balloons into the audience.
There was one point where some strange vampire chick was dancing around onstage, and then she got Alice into a corner and made him disappear. Of course, it was pretty obvious where he went, but still a nice touch.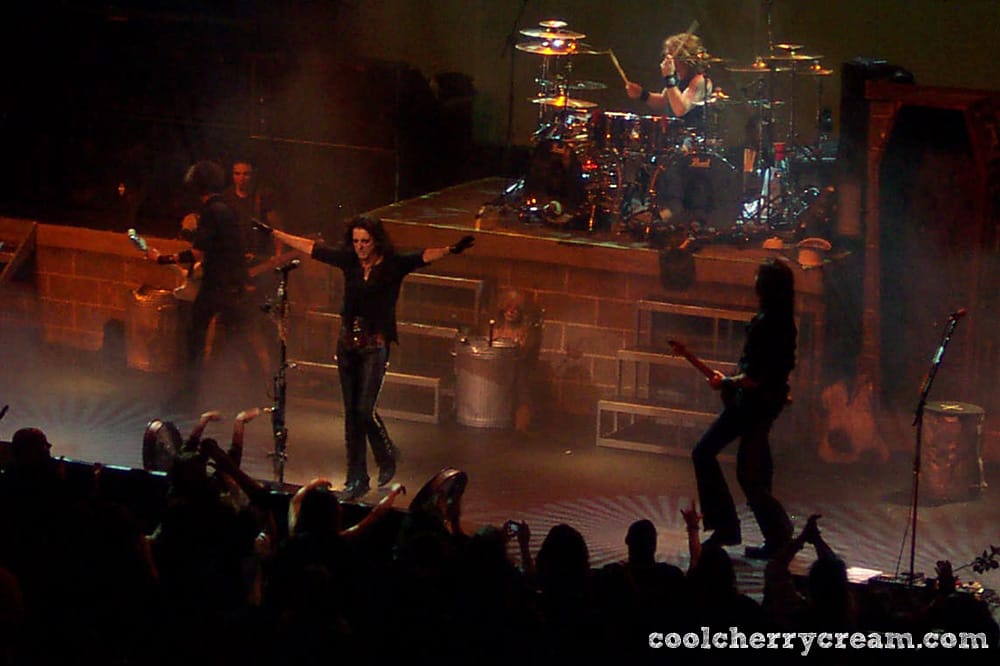 At the beginning of the show, I noticed a trash can and some doll in front of the drums. I realized it was just a doll and not a real person, so it wouldn't jump out at us. But then… it's alive! Of course, again it was obvious what happened, what with the lights going down after every song. But still, entertaining. She started doing a ballet type dance all around the stage, and it was confusing. I'm not one for interpretive dance.
Now, one thing that bothered me. I think it was the song "Lost in America". It goes something like this:
I ain't got a girl 'cause I ain't got a car
I ain't got a car 'cause I ain't got a job
I ain't got a job 'cause I ain't got a car
So I'm looking for a girl and a car and a job
Alice Cooper, "Lost in America"
Whoa… that's really deep.
Anyway. And then he plays "I'm Eighteen" a little later. I figure he must have written a good chunk of these songs when he was eighteen, because that's what it sounds like.
It's kind of like The Who singing "hope I die before I get old", you know? And Jerry Lee Lewis singing "Sweet Little Sixteen".
I noticed, I believe during "The Ballad of Dwight Fry" that Alice was sitting right in front of the crowd in his strait jacket, and people are like right up in his face with their camera phones! Man, that would be a cool picture.
"Hey guys, check out my pictures. Here's me at the zoo, here's a pylon in a tree…" — "Hey, who's that?" — "Oh, that's just my friend…" — "ALICE COOPER?!?" — "Right, that's his name."
So then these weird mummies or zombies or something come and get him, and then the garbage can chick comes out with a big thing under a blanket, and then they're like "WHAT SHOULD WE DO TO HIM? SHOULD WE BURN HIM? NOOOOOOO! SHOULD WE HANG HIM? NOOOOOO! GUILLOTINE, GUILLOTINE, GUILLOTINE!" My brother said everyone was yelling "GUILLOTINE!" except this one guy in this sad little voice says, "Let him go!"
So they uncover the guillotine and stick his head through and — CHOP! YAY!
The girl dances around with his head, and then sticks it on to this headless zombie. And then it comes to life! It's Alice! He's alive! YAY! BRRRRRRIIIIIIIIING! Schoooooooool's OUT! FOR! SUMMER!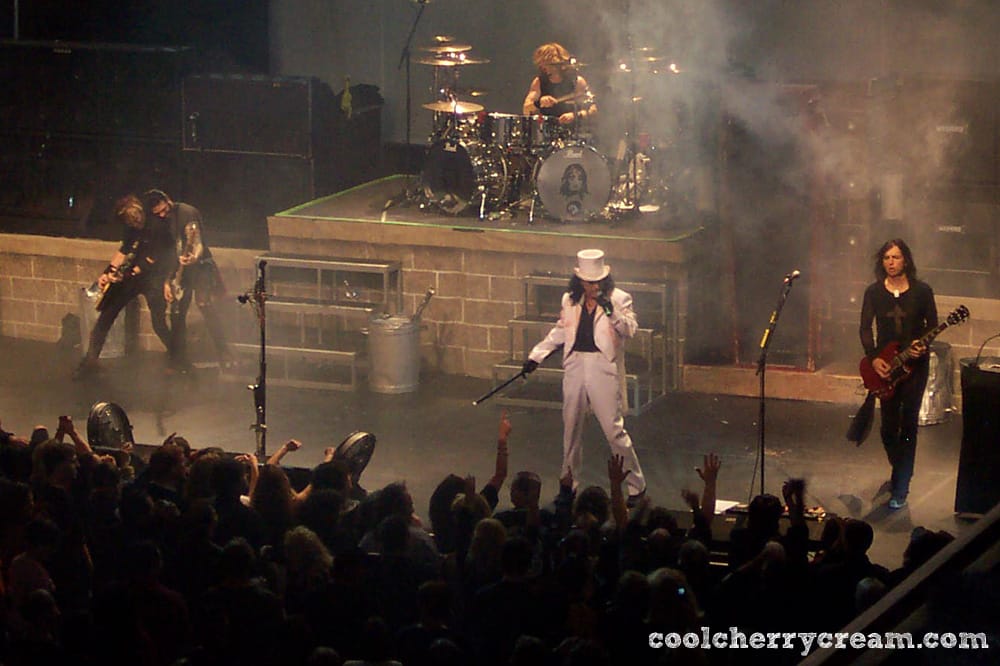 At the end, he introduced all the band members, and then the doll dead girl came out dressed as Paris Hilton and was prancing around the stage with her little dog and stuff and throwing a tantrum. And then he's like "my daughter — Calico Cooper!" and I was like "HUH?" That was strange. I didn't get the Paris Hilton bit.
So yeah. It was pretty cool. Lights were really good. Very entertaining. Very loud. My ears were ringing when I was trying to sleep, and I was afraid I might have gone deaf. Heh.