Sunday, October 7, 2007
Air Canada Centre, Toronto, Ontario
Photos
Set List
You Really Got Me
I'm The One
Runnin' With The Devil
Romeo Delight
Somebody Get Me A Doctor
Beautiful Girls
Dance The Night Away
Atomic Punk
Everybody Wants Some!!
So This Is Love?
Mean Street
Pretty Woman/Alex Drum Solo
Unchained
I'll Wait
…And The Cradle Will Rock
Hot For Teacher
Little Dreamer
Little Guitars
Jamie's Cryin'
Ice Cream Man
Panama/Eddie Guitar Solo
Ain't Talkin' 'Bout Love
1984
Jump
I don't feel like saying much about the concert, because it's easier for me to pick out the bad parts rather than the good, and that's just not fair, because it was good. I'm just a pessimist is all. I think I was expecting too much, because before the concert, everyone was all, "Oh, it's amazing! They're better than they were in the '80s!", and that's an awful lot to live up to.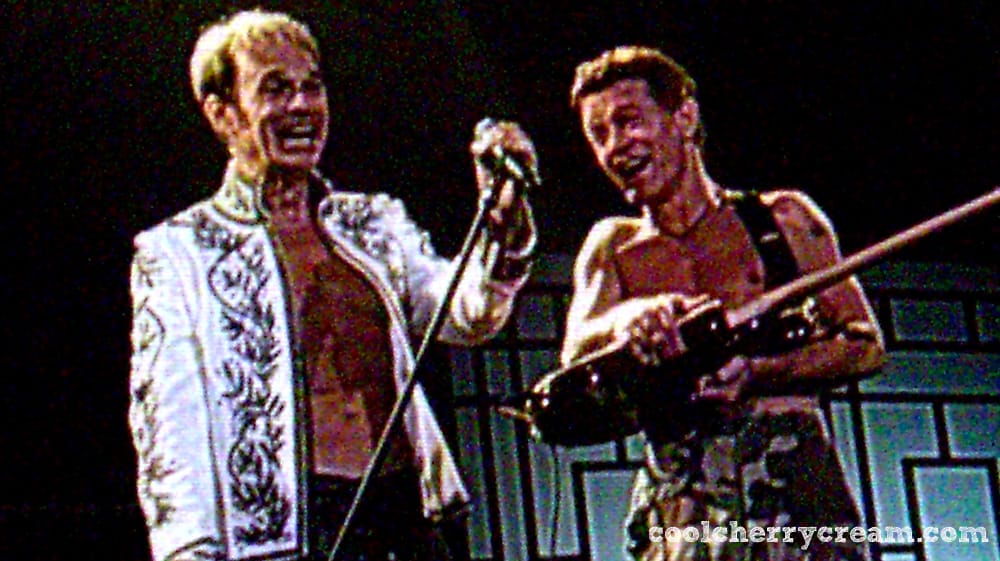 While reading other reviews, I noticed something. People always talk about Dave, because he's wacky ol' Dave, and people always talk about Eddie, because he's Eddie Van Halen, guitar god! And this tour, people always talk about Wolfgang, because he's the new sixteen year old bass player in this mega huge super band. But Alex always gets left out of everything, but we will have none of that here!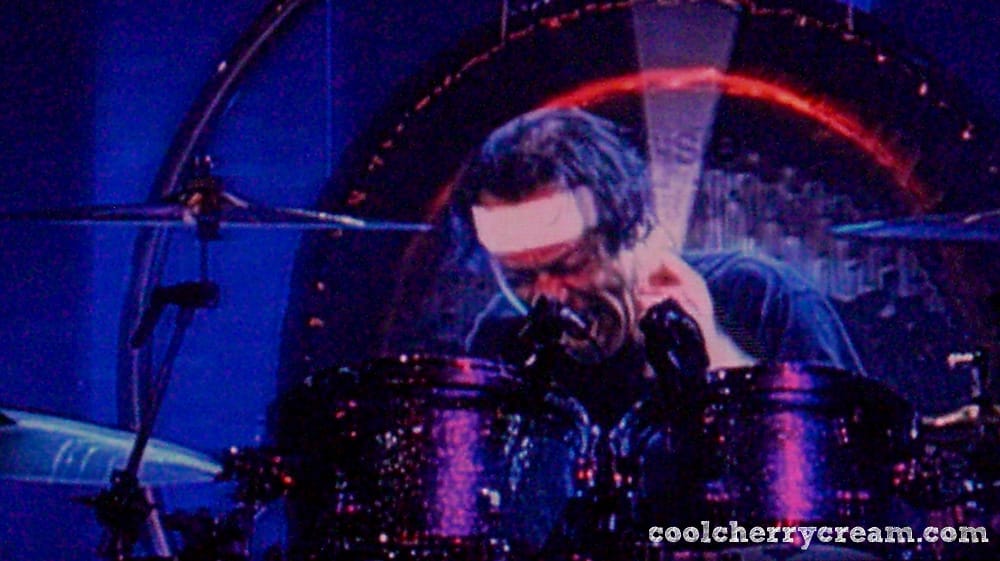 There is something seriously wrong in the world of rock and roll concerts. I noticed it at Def Leppard, and I noticed it here: one camera for the drummer is simply not good enough. They had this silly camera on Rick Allen, and the picture looked like what you get from one of those cameras they put on the helmets on Fear Factor. Alex at least had a normal camera, but again, only one! By the third or so song, there appeared to be a second camera on Alex, but it looked like just the same camera with the image flipped. Now, there was one camera from the front, but it was technically just another Dave cam.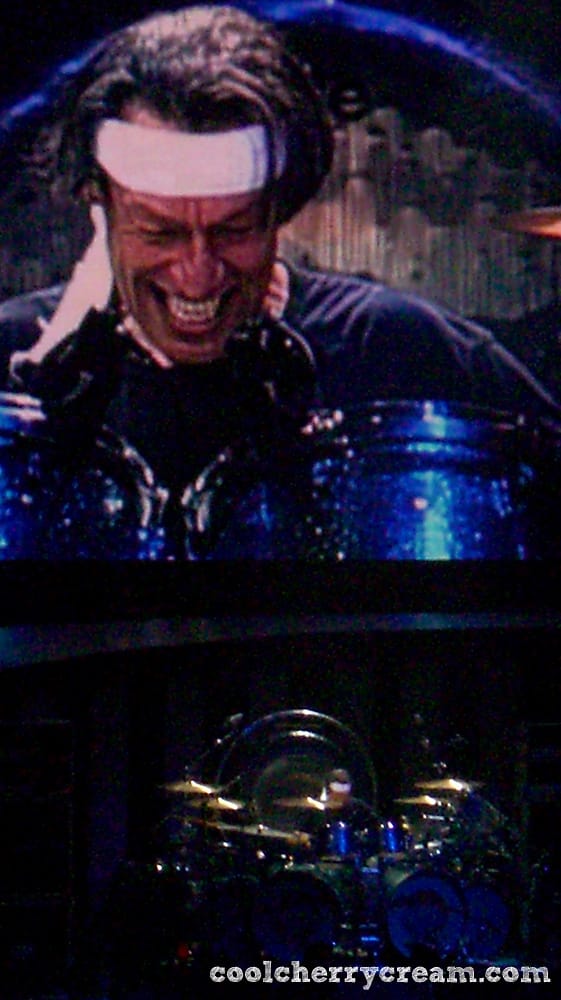 I was going to comment on the fact that Alex started off shirtless and then put on a shirt halfway through, but reviewing the pictures reveals that he was always wearing a shirt. I must've been hallucinating. I thought the fact that he did it backwards–ie. adding a shirt rather than subtracting one–was quite strange. But I mean, a drummer with a shirt… and pants? For two hours? I didn't think that was possible.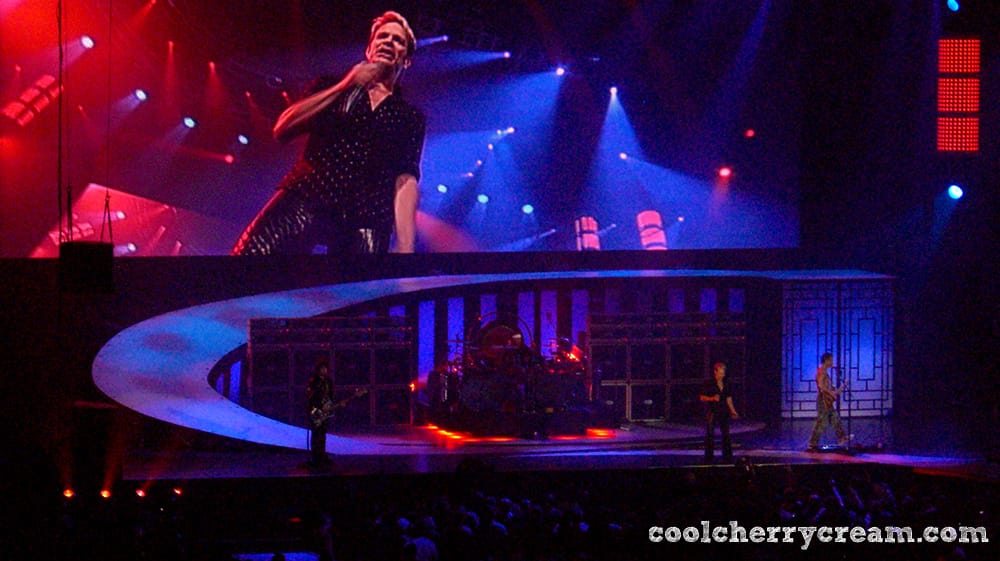 During "Somebody Get Me A Doctor", Dave sang, "Rocky said, 'Doc, it's only a scratch'", which was hilarious, but I'm now convinced it was planned and not just an off-the-cuff remark, seeing as I'd previously heard the stuff he said during "Panama" before.
I know everybody does it, but I really appreciate the little things that make my concert unique, and I don't really think there was any of that at this show. It's just the exact same thing every night. Those special little parts are the ones I like most to write about.
Anyway, the Beatles reference was cool, and they also played a bit of "Magic Bus" in the middle of "Romeo Delight", but I was expecting that. The Rocky thing was unexpected, so it was funny and memorable. Methinks no more reading concert reviews in future for me.
You see, this was only the second concert (after my second Who concert) where I knew every single song played, due to doing my homework and reading set lists from previous shows. And I don't mean I know them as in, "Oh yeah, I've heard 'Little Guitars' a few times, I think", I mean, "Oh yeah, 'Little Guitars'? 'Senorita, I'm in trouble again, and I caaan't get free (Senorita)?'". Really knowing all the songs makes the whole experience better. You don't drift off in the middle of the song; it keeps your attention. Knowing all but one song keeps your attention, but then Joe Elliott insists on looking at you during the one song you don't know (and completely off topic, but I've recently found that Joe was a major cutie in '83!).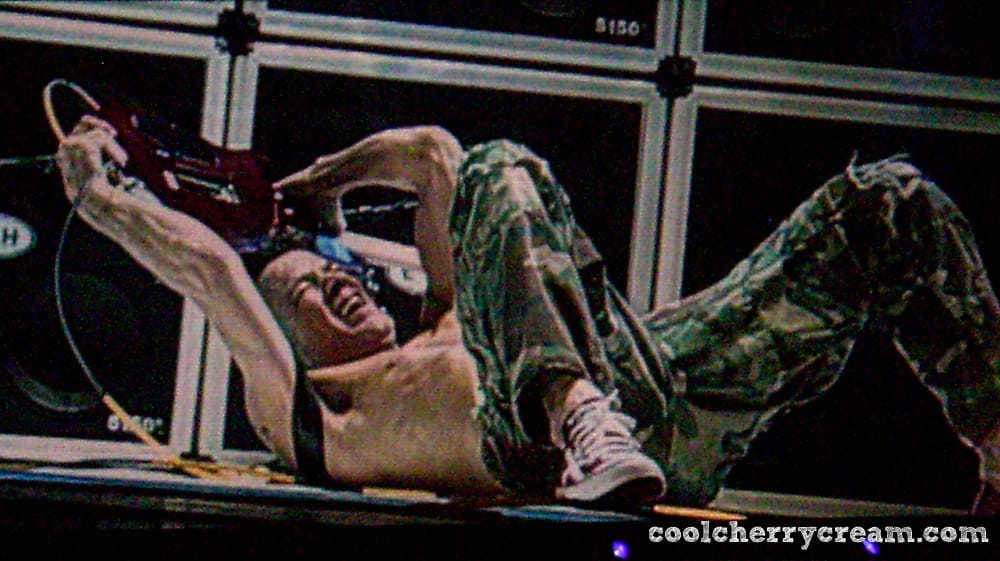 During "Mean Street", Dave suddenly started talking about a phone booth, and then said, "I don't need no cell phone!", to which the crowd cheered. I'm not quite sure if it was a, "Ha ha! He's old and he knows what a cell phone is!" thing or a, "Hey! He's from the '80s and knows what cell phone is?" thing, or a "Yes! We also don't need no cell phones either!" thing, but it was amusing. And of course, this all transpired into a sexual thing, as it always does with Dave. Not a problem, but kind of awkward. One reviewer said it well:
I kept thinking it must have been hard for Roth to talk dirty while staring at a bunch of 40- or 50-year-old guys in the front row.
Van Halen tour makes the grade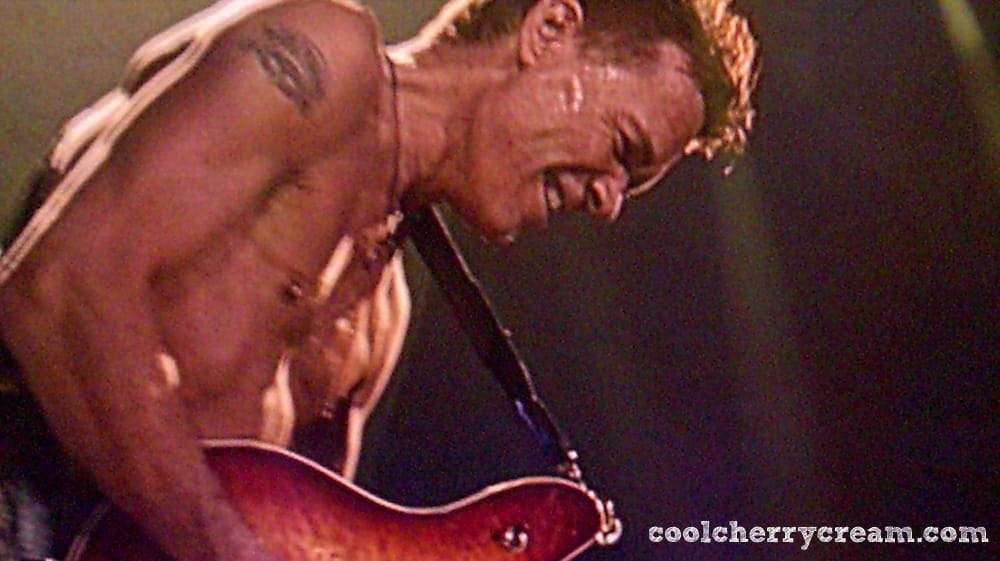 At one point, Eddie came on stage smoking a cigarette, which prompted me to think, "No! Bad Eddie!", but he quickly proceeded to throw it away before I realized that was actually kinda hot. I know, smoking is bad, but people still look good doing it.
The last song was "Jump" and Dave… didn't jump. Not once. I kept thinking, "Boy, you better jump, or you're gonna disappoint all these people". Eddie on the other hand did jump, and often. He was very enthusiastic all the way through, from what I could tell. Dave always looks enthusiastic though, so it's hard to tell. There was one point during his solo where Alex had a huge grin on his face, and from what little I could see of him, he looked like he was having fun too.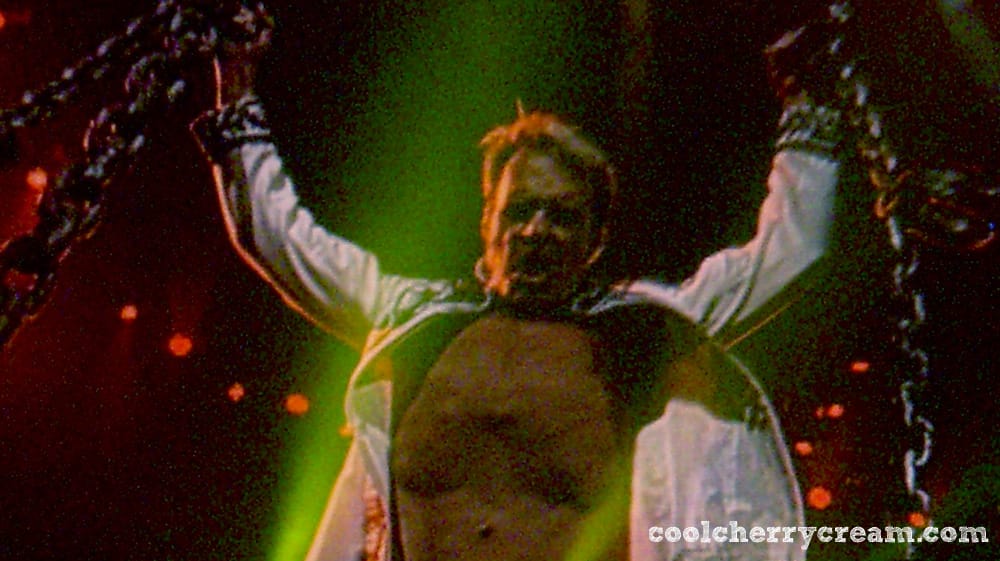 That brings me to "Unchained". I was taking pictures, and often, it's hard to tell what's going on on stage when you're looking at this horribly pixelated zoomed in thing, but I suddenly saw Dave carrying around some… rattlesnakes? I put the camera down and looked at the big screen. "Oh. Chains. Going the literal route, eh?". There's the part where Dave does the whole, "That suit is yooou! Hoo hoo hoo!", and the crowd is all, "Come on Dave, gimme a break!" and Wolfgang comes over and Dave is like, "Shh, this is his big moment!" and Wolfgang says, "Dave… can you give me a break?". I think he was just putting on the voice and making fun of himself and all, but still… gimme a break!