Thursday, July 24, 2008
Hawk Rocks the Park V, London, Ontario
Photos
First up is Lee Aaron, but we only caught her last song. I've never been a big fan of female singers. When I first started listening to her stuff a few months ago, I thought "Metal Queen" was pretty good, but then the vocals came in, and I'm like, "They should've just had a dude sing it". But somewhere along the way, her songs grew on me, so I guess chicks ain't that bad. Anyway, I think I saw her off to the side of the stage taking pictures during Joan Jett's set.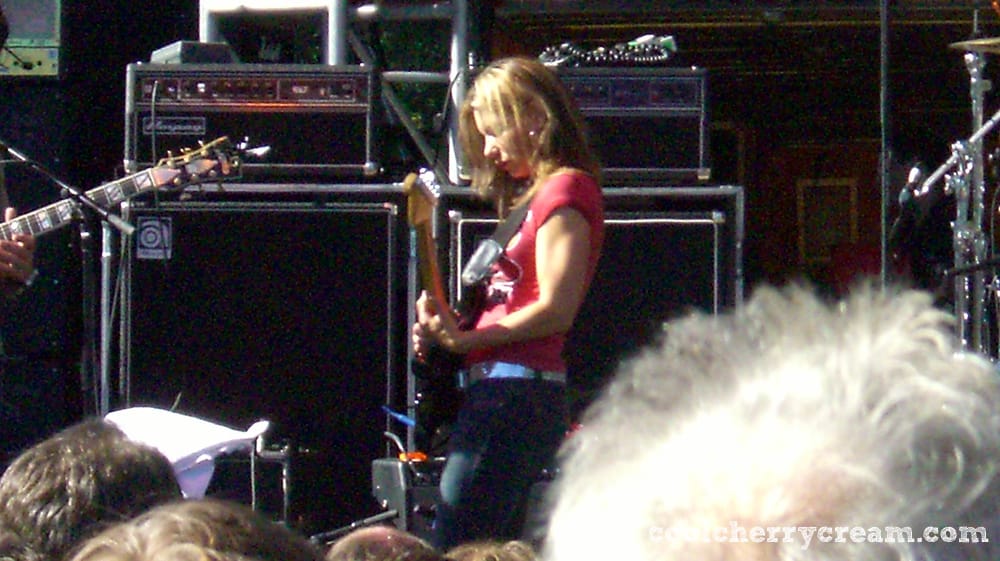 Next up was Skid Row, who I keep getting mixed up with Great White. I think it was Skid Row and not Great White who were trying to get the crowd excited and making noise, and to me, it sounded like he screamed "WAKE THE BABIES!". Which, I mean, strange as it sounds, makes sense in context. You want us to be loud so the babies wake up, I get it. Rude, but effective. I'm sure he didn't actually say that, but now I know what I'm going to yell out when I'm a rock star. Speaking of which, these concerts made me realize how much I want to see what it's like on the other side, up on the stage during a huge concert.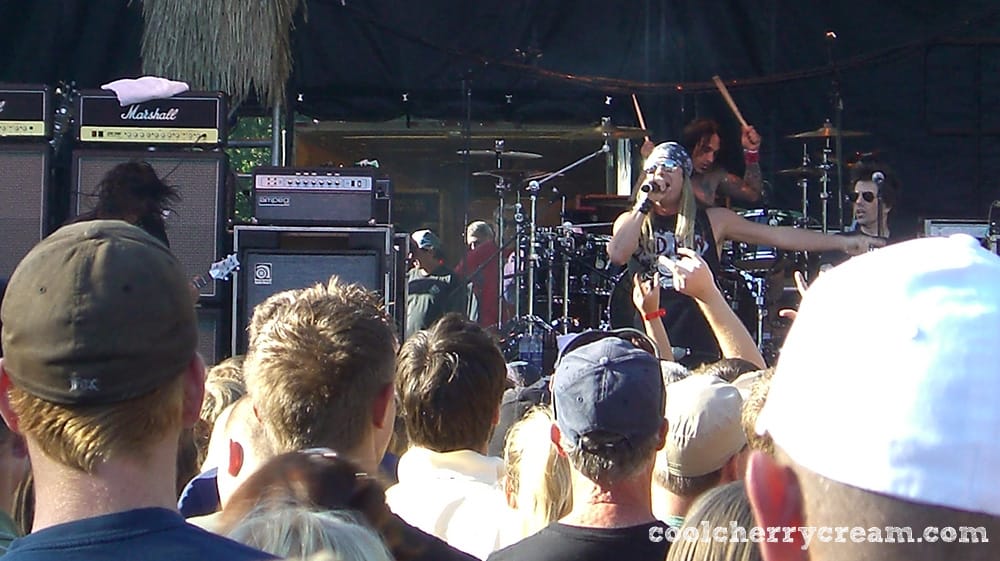 Joan Jett was quite good. I only know a couple of her songs, and they sounded good. I've never heard her cover of "Crimson and Clover", only the Tommy James version. Usually, once I've heard one version of a song, that version will always be my favourite. But she did it pretty well. She also did a cover of The Mary Tyler Moore Show theme song, which was unexpected and pretty good too. "Bad Reputation" was the opener, andshe also played "A.C.D.C.", "Cherry Bomb", "Naked", "Androgynous", "Do You Wanna Touch Me?", "Riddles", "Change the World", "I Hate Myself For Loving You", and "I Love Rock 'N' Roll".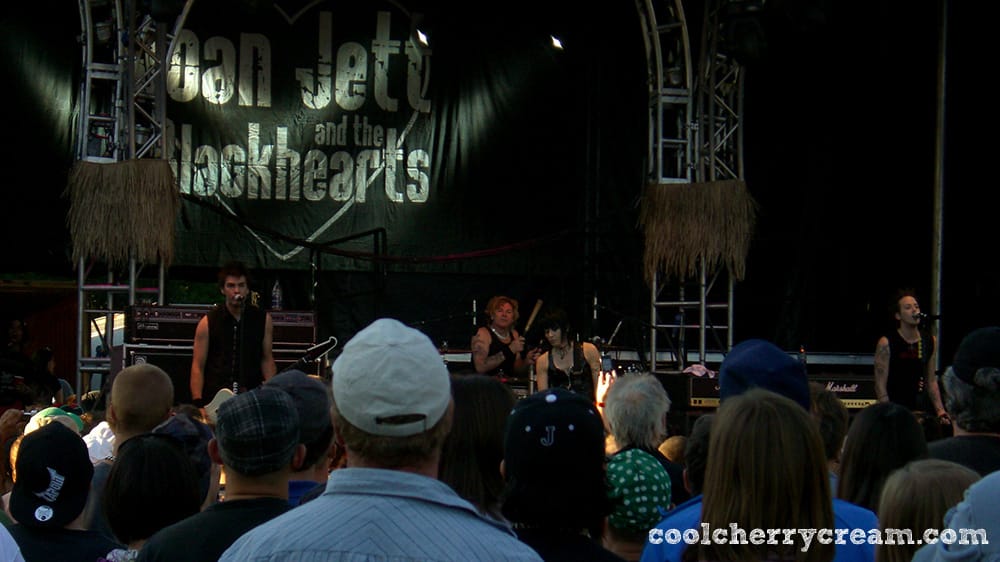 And already, here we are at Sammy Hagar. The show started with a video, and I felt like I was back at the Toby Keith concert. I didn't know concerts had commercials before them now! Funnily enough, Toby Keith was in the video, telling us to come on down to Cabo Wabo. We also saw Michael Anthony, who would not be there that night, as I was hoping he would be. And then, and then… the curtain was still up. Turns out, there was good reason for the curtain to be up for so long. When it dropped, there were about seventy people on the stage, and it was all very reminiscent of the cover of Sgt. Pepper's. There was even a little bar at the side of the stage. Actually, I'll show you a picture rather than describe it.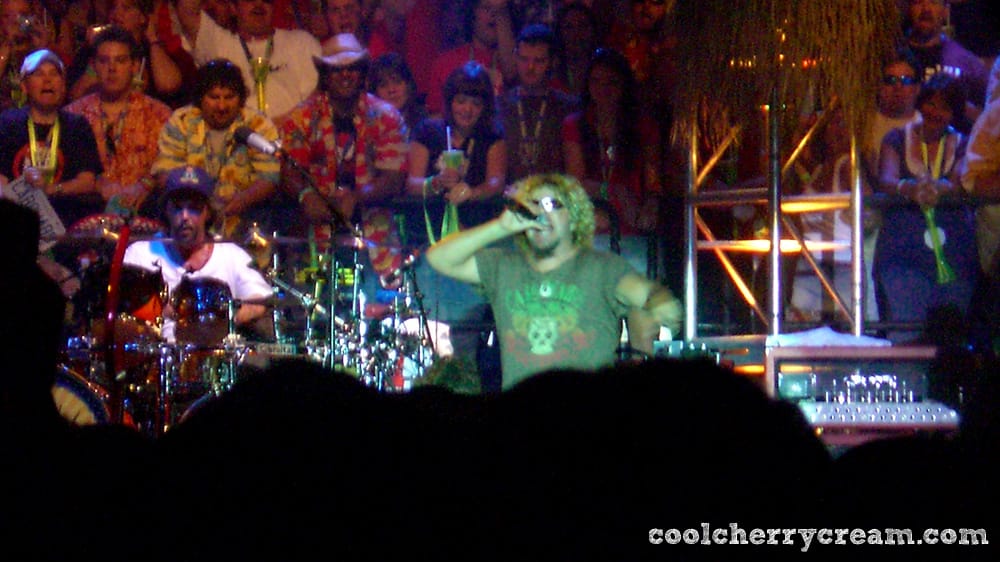 He opened with "I Can't Drive 55″, I think. Which is weird, you know? Usually people end with their big song. Which is why you really need two big songs; one to start, and one to finish. Or three, one to start, one to finish, and one for the encore. Or, alternately, you can just have all big songs, and then it doesn't matter.
Sammy was very much like Ted in that he talked a lot (which I always appreciate), but he wasn't pushing an agenda, unless you call partying an agenda. He was just having fun. The stage seemed so much bigger that night, with all the craziness and partyness up there.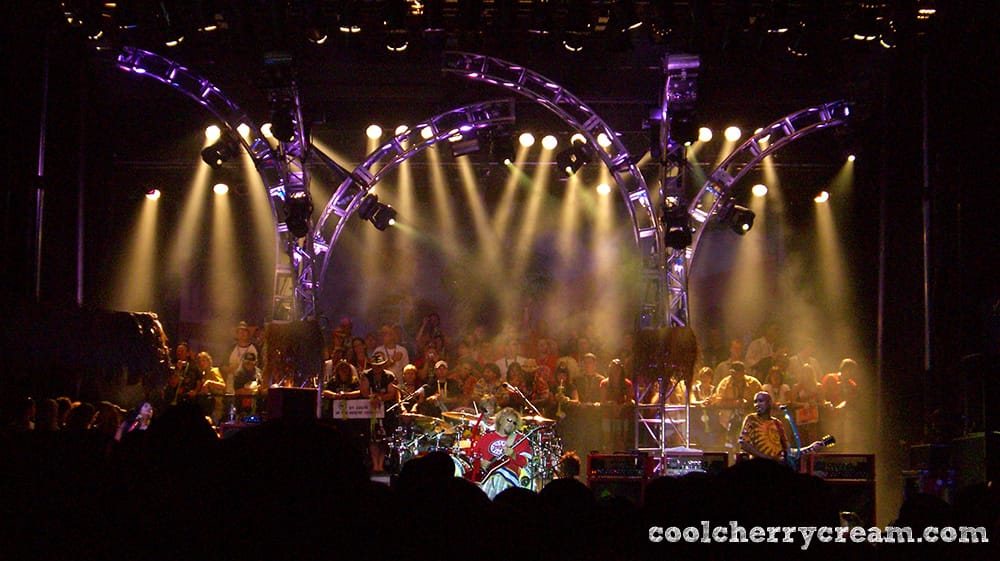 Let's see, I think he played (in no particular order) "Heavy Metal", "I'll Fall in Love Again", "Mas Tequila", "Sam I Am", "Serious Juju", "There's Only One Way To Rock", "Why Can't This Be Love?", and "Finish What Ya Started" as an encore. Apparently he also played "Three Lock Box", which is a song I don't know, but it now sounds familiar. He did "Dreams" as an acoustic song, which was alright, but I wasn't crazy about it. The original "Dreams" reminds me of the Mighty Morphin' Power Rangers, but the acoustic version… not so much.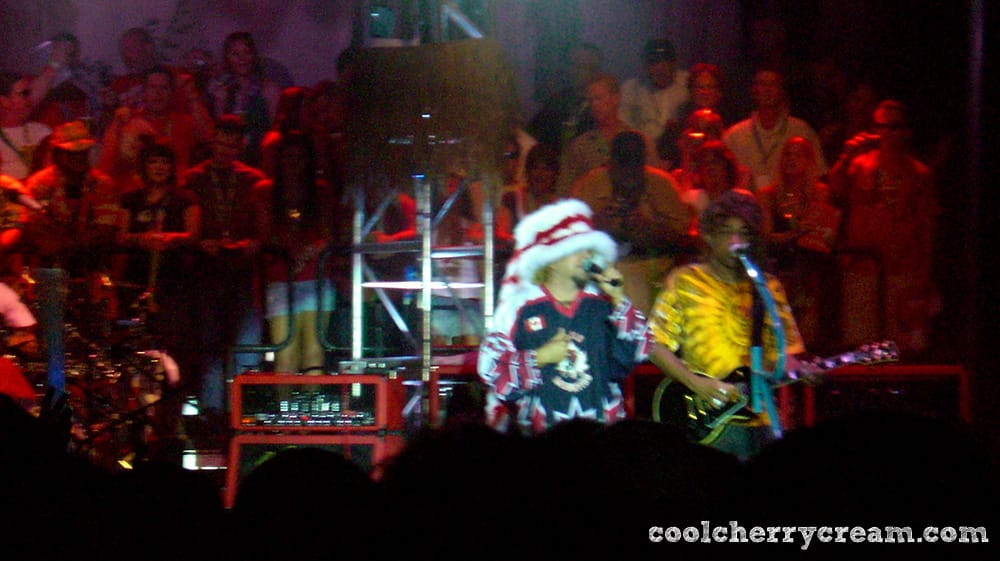 Speaking of Van Halen, there was a dude in the crowd behind the stage who threw a wig down to the stage. Sammy took the wig and put it on his guitarist, commenting that he looked like Tina Turner (on a bad day). He asked who threw the wig, and a guy with a big blonde wig says it was him. Sammy told him that the wig made him "look like David".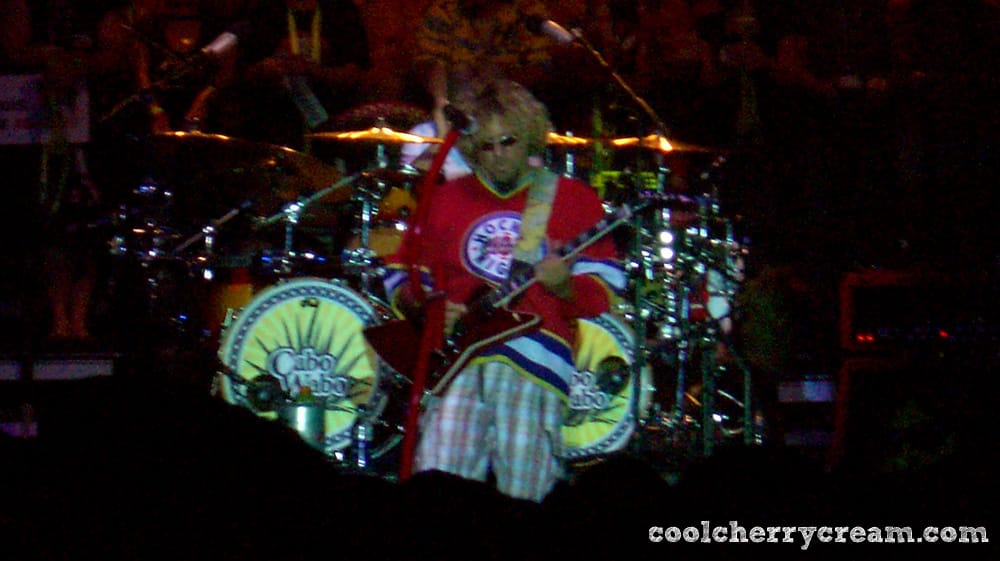 At various points during the concert, Sammy wore a couple different hats and shirts. He had a "Hockey Night in Canada" jersey which he apparently put on backwards first, and so he had to sing some of the song with the microphone inside the shirt. I couldn't see most of the time, so I'll believe what people tell me. Actually, that leads me to another point. I took a survey during the concert, and the results were quite astounding.
That's about all I can think of right now. It was a pretty good show. At the end of the last song before the encore, they shot out streamers into the crowd. This occurred, conveniently, right after we decided to go back to our lawn chairs. I could've had a Sammy Hagar streamer that would have sat right next to my Joe Perry sparkle, but alas, it was not to be.