Saturday, July 26, 2008
Hawk Rocks the Park, London, Ontario
Photos
The final day of Hawk Rocks the Park V. We got there late once again and only heard the end of Streetheart's set while we were waiting in line. Yes, for the first time, there was a line to get in. At 5:00. Wow. Luckily, it wasn't that long of a wait.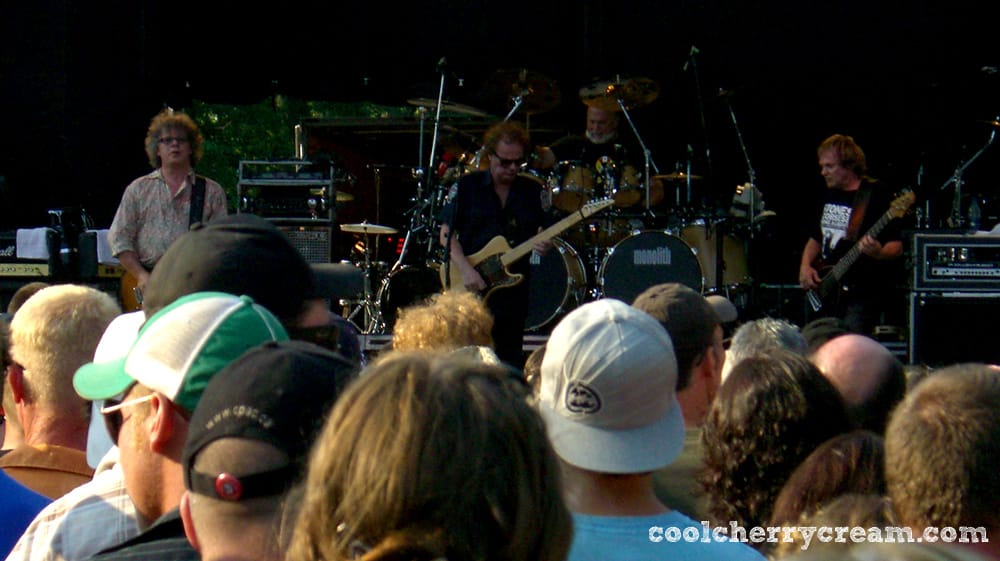 Next was April Wine. I grew quite fond of them back when I realized how many of their songs I already knew. They played "21st Century Schizoid Man", "Bad Side Of The Moon", "I Like to Rock" (while I, on the other hand, only moderately enjoy it), "Oowatanite", "Roller", "Say Hello", "Sign Of The Gypsy Queen", "You Could Have Been A Lady", "I'm On Fire For You Baby", and "Enough Is Enough".
The drummer did the first real drum solo I've seen for quite some time. At one point, he started standing up and raising his arm in the air while playing, and then he brought his hand back down and brought the other one up. Like, he was playing with his one hand, and then he seamlessly stopped playing with that hand and picked it up with the other one? Like, you know? It was pretty sweet. Then the rest of the band came back on stage, and the singer was like, "Not bad for a sixty-nine year old!" and everyone in the crowd was like, "Whoa!".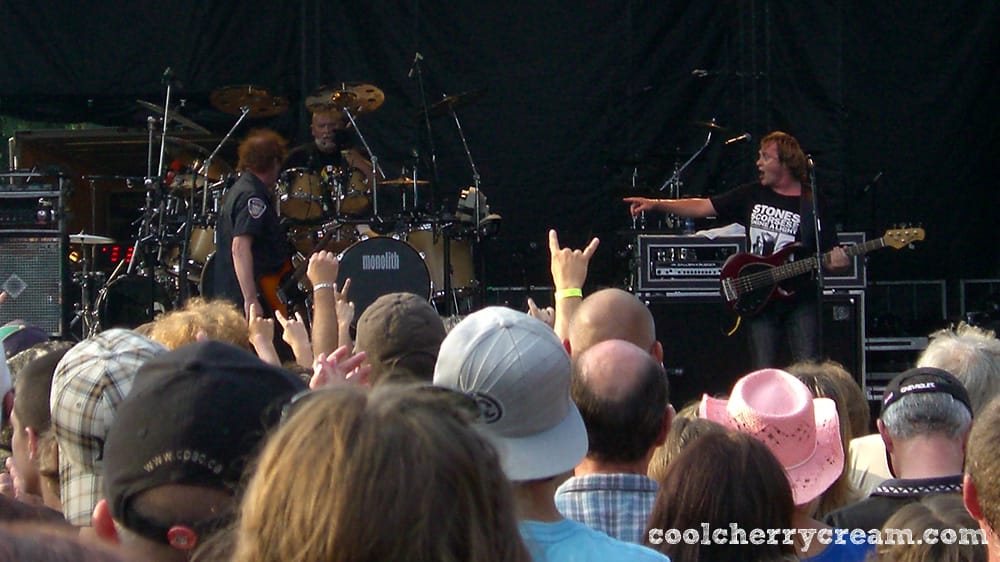 Then I was like, "Hey, that's not fair. They all got a break, but the drummer doesn't?" and then the singer starts saying that the drummer's going to have a break, and he's going to talk to us for awhile. He started talking about diabetes and needles and stuff and I was like, "…Shit". Not 'cause I have a problem with preachy rock stars, but because hearing about medical stuff makes me faint, so I stopped listening and started focusing on other things. "Hmm… she has a pink hat. I like music. Oh, look, there's the sky".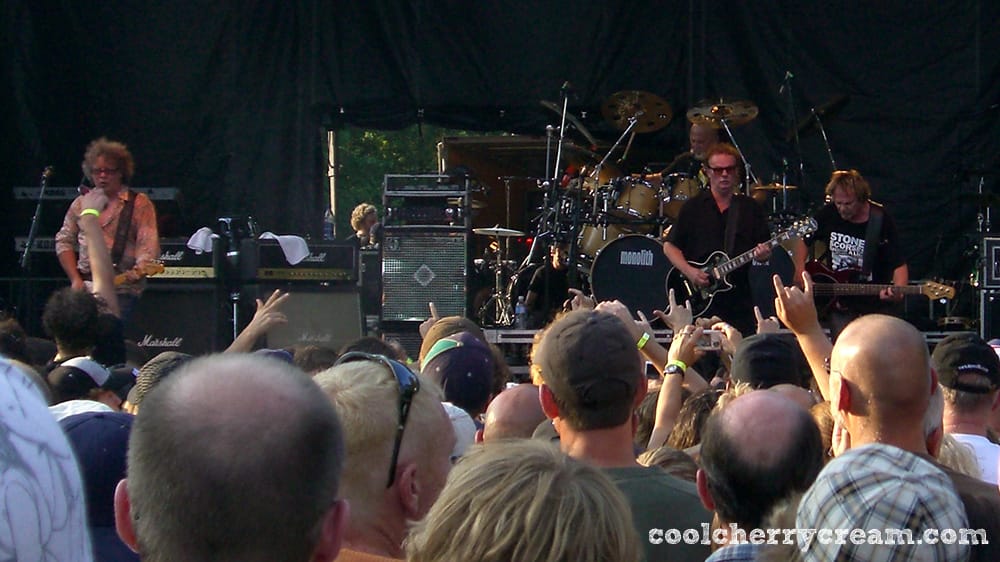 I think they finished with "Roller", and then left and came back. They said they had five minutes left and asked us if we wanted to hear "Tonight is a Wonderful Time to Fall in Love" or "Oowatanite". This was a tough choice for me, because even though "Oowatanite" is obviously the better song, I wanted them to play "Tonight is a Wonderful Time" for irony's sake. You see, Mark Farner was going on next, and he has a song that goes, "I'm in love, but I sure picked a bad time to be in love". But "Oowatanite" is awesome, so I was fine with the lack of irony for the evening.
As I said, Mark Farner from Grand Funk Railroad was up next. We were a bit worried that he would be like Steve Winwood, as they both have crazy long songs. He was actually much better than I expected. I didn't know most of the songs, but they were pretty good. He did "We're An American Band", "Heartbreaker" (which seemed super short), "Bad Time", "Some Kind of Wonderful", and "The Loco-Motion". When there were about twenty minutes left, we figured he'd start into "Closer to Home" and go on for the rest of the time, but he never played it. Long as it is, I do like the song, so it was a shame he didn't play it.
Video dude found a new button today. One that inverts half of the screen. Woo hooo. Or maybe, let's just invert the corners. Or make an inverted rectangle around the screen! Oh man, this is SO awesome. Not.
To close off the weekend, we have Bachman-Cummings: Randy Bachman and Burton Cummings of The Guess Who and BTO. They started off with "American Woman". From the BTO catalog, there was "Hey You", "Let It Ride", "Looking Out For Number One", "Roll Down the Highway", "You Ain't Seen Nothin' Yet", and "Takin' Care of Business". Burton Cummings had "Break it to Them Gently" and "My Own Way to Rock", and from the Guess Who, we had "Laughing", "Clap for the Wolfman", "Albert Flasher", "Hand Me Down World", "No Sugar Tonight/New Mother Nature", "No Time", "These Eyes", "Undun", and the one song I didn't know, "Star Baby". I think that's all of them.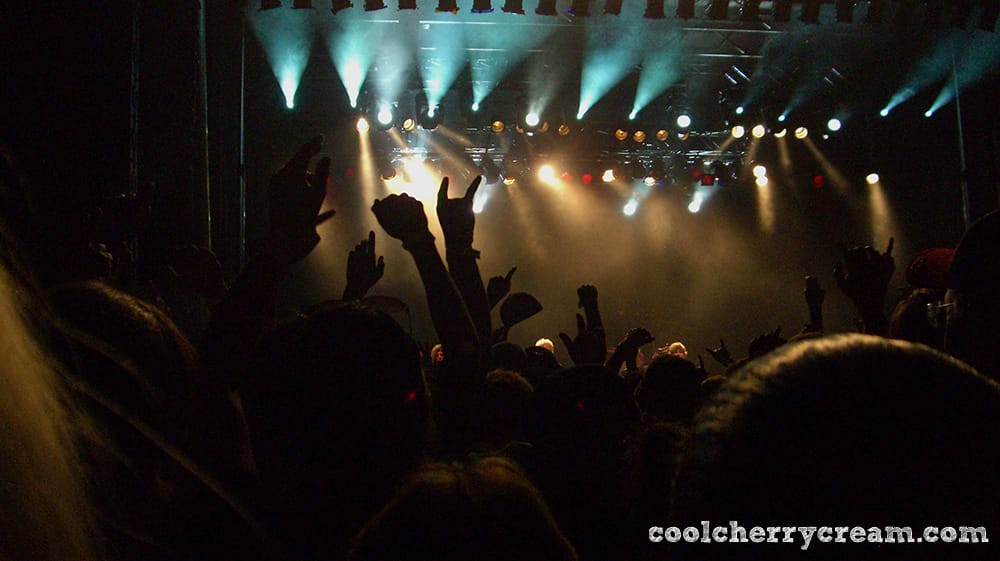 Is it just because I'm Canadian that I know so many of these songs? Or are they just really awesome? I'd like to think it's the latter.
My mom and brother had seen Bachman-Cummings awhile back, and they said they put on a really good show. They were definitely right. For one, the songs are all awesome, and for two, they talk in between the songs. They talked a bit about what the song was about or the inspiration for it, and funnily enough, I usually knew which song they were talking about before it even started.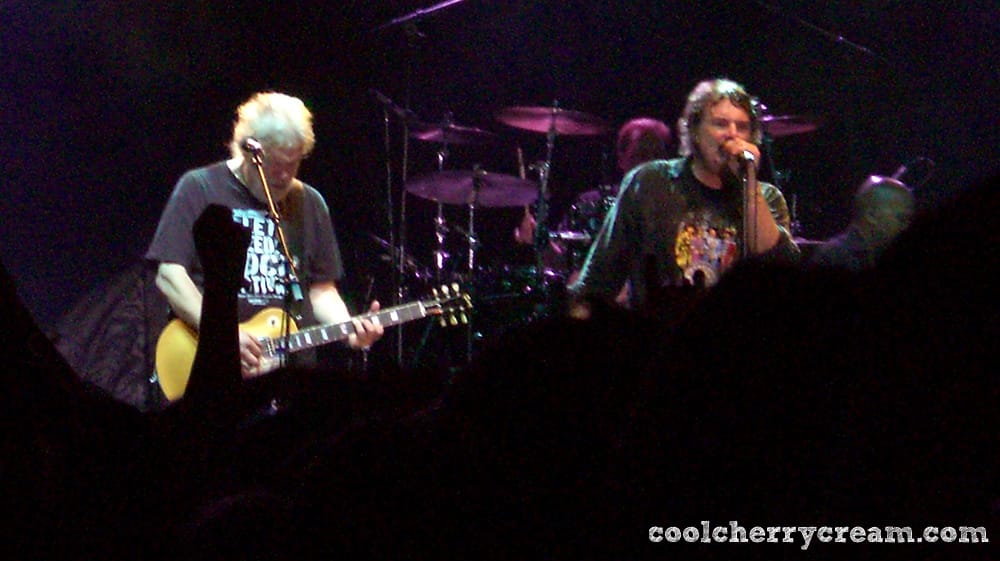 The crowd for this show was crazy though. There were people crowd surfing. Crowd surfing! At Bachman-Cummings? There was a certain threshold just before where we were standing, where if the crowd surfers got too close, the rest of the crowd would move back in fear, which isn't really the brightest idea. Crowd surfing isn't either, but whatever.
"Clap for the Wolfman" is a song I didn't really like for awhile, but then I realized that most of it was actually really cool. Either way, I knew that you only clap after the first "clap for the Wolfman". I mean, even if you never heard the song, it doesn't make sense to clap the second time, because there's no time not enough time before the vocals come in. Pfft, amateurs.
At one point, they announced that they were going to play a slow song, but they decided to change the set list and play some "straight ahead rock and roll, meaning the word 'rock' is in the title", and then went into "My Own Way to Rock". Which I always mix up with Sammy Hagar's "There's Only One Way to Rock".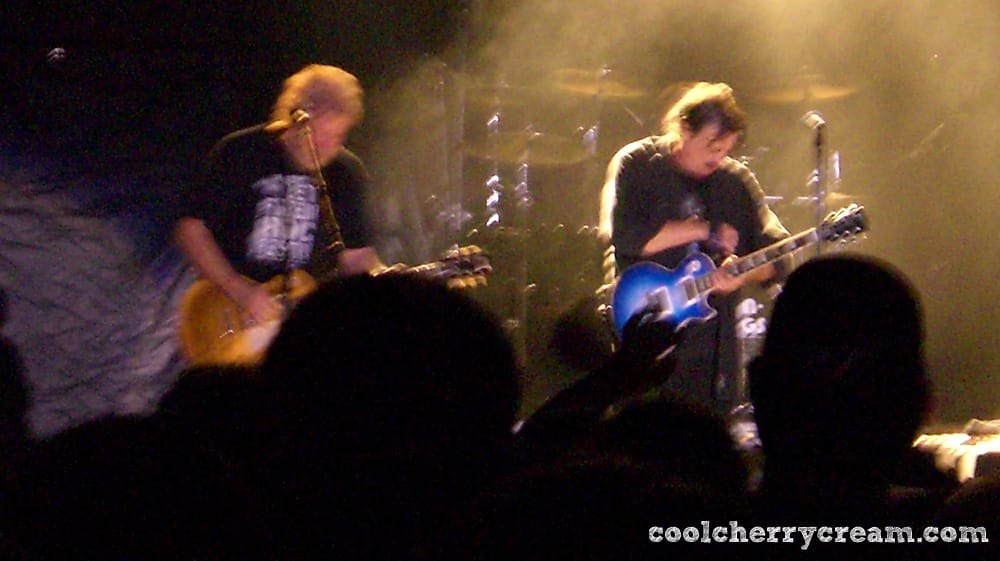 There was one dude on the right side of the stage with long hair that I felt bad for because he just stood there and played the bloody tambourine the entire time.
Towards the end of the concert, Burton was playing a song on the piano, and he was totally looking at me the whole time, because for that one song my line of vision was completely unobstructed, and it was like this cosmic thing, because after the concert, I realized that we have the same birthday, which totally explains it.
Basically, every song was really good. And I realized that they really rank up there with the great artists of their time, because their songs are all very distinct. Pick any two of their songs, and chances are they won't sound that much alike. Unlike most bands of this time and most time, for that matter.